The idea for the Portage Women's Civic League was conceived in December 1931 by a group of passionate local women. Their goal was to create a club for women to gather each month to support their community through involvement in projects that improved the status of women, and families, offer educational programs, and, of course to work for civic improvement. Club membership was open to every woman in Portage regardless of race, creed, or caste.
To recruit members, these women canvassed the city. Membership fees were $1 per year (and remained the same until 1950) and 350 women joined the first year.
The Club House
The first dinner meeting was held May 24, 1932 at 6:00 pm. At this time Zona Gale  presented the keys to the home on the banks of the Wisconsin River that she had built for her parents after the publication of her first novel in 1906 for club use. The Women's Civic League now had a home and the first "Garden Tea" was held in the evening of August 26, 1932.
Initially, the house was furnished by donations and its maintenance depended solely upon dues and fundraising projects.  Later, the house was deeded in trust by Zona Gale's husband, William Breese, to the Women's Civic League for use as a club house and a meeting place as long as the Civic League remained a club and met certain stipulations for maintenance and insurance.
In 1981 the home became listed on the National Historic Registry. The Civic League incorporated in 1984 and received the deed to the house from the trust.  Today the Civic League is a registered 501(c)3 charitable organization.
In 2012 Women's Civic League restored the home's waterfront which suffered from years of erosion.
Civic Contributions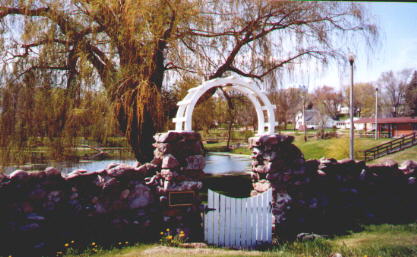 The Women's Civic League built the arch entering the Bridal Pond in Pauquette Park and contributed to the beautification of the park. Over the years it was instrumental in organizing volunteers for the Red Cross in World War II and the volunteers for the hospital and nursing home. It (omitted "has") supported the Portage Girl Scouts, which was organized in 1935 by the first chef of the club house.
Today the Civic League contributes to many civic organizations, sponsors nursing home parties, stuffs stockings for needy children at Christmas time, and since 1971, awards college scholarships.
Over the years fundraisers included card parties, box socials, bake sales, rummage sales, tour of homes, fashion shows, luncheons, the Kiddie Korner, charity balls, a Christmas Bazaar and auctions.  Learn more.