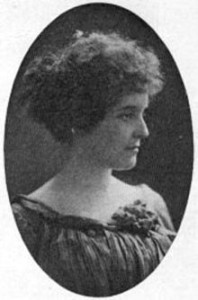 Zona Gale Breese
Born:  August 26, 1874
Portage, Wisconsin
Died: December 27, 1938 (64 years)
Chicago, Illinois
Occupation:  Writer
1874   Zona Gale born in Portage, Wisconsin on August 26th.
1895   Graduated from the University of Wisconsin with a Bachelor of Literature degree. Joined editorial staff of Milwaukee's Evening Wisconsin; eighteen months later joined the staff of the Milwaukee Journal.
1899   Awarded Master of Literature degree from the University of Wisconsin.
1901   Moved to New York and became a reporter for the New York Evening World.
1902   Employed as Edmund Clarence Stedman's secretary; associated with writers in the Stedman literary circle, including Richard Le Gallienne and Ridgely Torrence.
1904    Broke off romance with Torrence after nearly two years of courtship; began move back to Portage.
1906    Published first novel, Romance Island.
1908-1909  Became engaged in civic and state affairs.
1910    Won $2000 as first prize in The Delineator short fiction contest for "Ancient Dawn."
1912-1920  Became a member of Heterodoxy. Participated in numerous activities; Wisconsin Dramatic Society, civic projects, pacifism, woman's suffrage, La Follette progressivism in Wisconsin, reform legislation; anti-racism and anti-semitism.
1921   Won the Pulitzer Prize for the stage version of Miss Lulu Bett. Appointed to Wisconsin Free Library Commission.
1922   Received honorary degree, Doctor of Letters from Ripon College.
1923   Her mother died May 29th. Appointed by Governor John Blaine to the University of Wisconsin's Board of Regents
1924   Campaigned for Robert La Follette, Sr., on the progressive third-party ticket.
1925   Influenced the selection of Glenn Frank as president of the University of Wisconsin.
1928   Married William L. Breese of Portage.
1929    Her father died September 18th. Awarded honorary degree from the University of Wisconsin.
1930    Received honorary degree from Rollins College, Florida. Covered the Republican National Convention in Chicago for the Milwaukee Journal.
1931     She and Breese adopted Leslyn, a five-year-old relative whose care Zona Gale had undertaken in 1926.
1933    Appointed as Wisconsin's representative to the International Congress of Women.
1936    Embroiled in controversy over Glenn Frank's dismissal the the University of Wisconsin.
1937     Traveled to Japan.
1938    Died of pneumonia December 27th in a Chicago Hospital; buried in Silver Lake Cemetery, Portage, Wisconsin.